About
Are you in need of a bra that fits you perfectly or shapewear for under that form-hugging dress? Juliet Lingerie & Swimwear in Mount Kisco, NY is the right lingerie store for beautiful and functional lingerie, undergarments and more. Founded in 2008, our store offers an extensive range of women's bras, lingerie, swimwear and shapewear. At our store, you will find the widest range of bras of different sizes, from AA to H cups. Our bra-styles include t-shirt bras, sports bras and strapless bras. We have all types of swimwear in different styles for all shapes. Our range of lingerie includes every day staples as well as special pieces. We also have shapewear that is just right for you.
Personalized Fittings
We do personalized fittings for bras and shapers. The bra fitters at our shop have extensive training in the field. For your convenience, we highly recommend making an appointment for your fitting. We offer alterations on bras and swimwear to custom fit our customers when necessary.
Get Fitted
We help customers one by one for a personal experience. Step into our store to find the best fitting bras or the most comfortable shapewear you've ever had. Schedule a custom fitting today.
Like & Follow Juliet Lingerie
Like our Facebook page for exclusive updates on our latest inventory, sales and offers.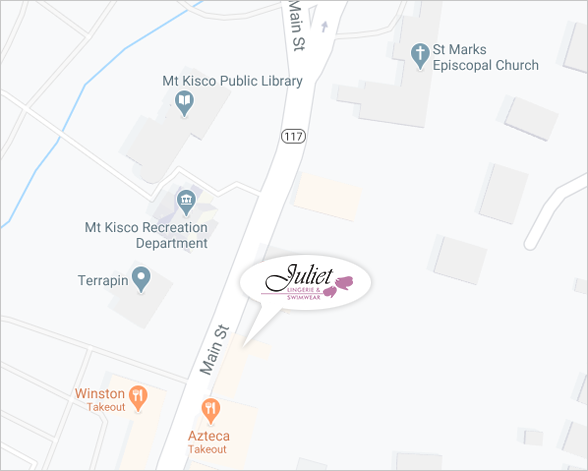 Schedule a
custom fitting today.
115 E. Main Street
Mount Kisco, NY 10549

914-218-8787
Get Directions